By Amy Starecheski
I know I can count on the Annual Meeting of the Oral History Association for many things: a chance to see colleagues, catch up on the latest work in the field, get a sense of which conversations are growing and gaining momentum, what folks in the field are excited or troubled about, and introduce new students, alumni and old friends of the Oral History MA Program to each other at our annual happy hour. All of this reliably makes the trip more than worth it.
Sometimes, there is that magical something extra, and often that happens outside of the fluorescent-lit, chilly conference rooms of the official meeting. In Minneapolis, it started in one of those rooms, in a plenary honoring the work of Staughton and Alice Lynd. The session was part of one of those momentum-gaining conversations I've been noticing: the conversation about the history of oral history, and how we might grow into the future differently if we imagined our past in different ways, recognizing our radical roots. Staughton and Alice are some of our most important radical ancestors. They talked about the idea of accompaniment, and as I watched them together on stage, taking carefully choreographed turns sharing their experiences and ideas with us, I wondered if the idea of accompaniment was relevant to their relationship. I was lucky enough to get to ask the question. It was a leading question, and they gave the answer I had led them to, "Yes, of course." I realized that what I really wanted to know was how they had kept all of this social and intellectual and political work up for their whole long lives together. So many people burn out. How were they still going strong?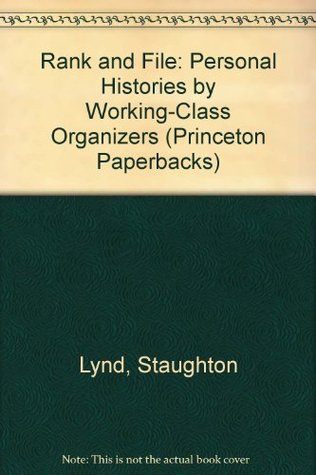 Later that evening, Sarah Loose and I drove over to the East Side Freedom Library to join the last event in a day of offsite programming there organized by the Labor Working Group of the OHA: a reception to honor the Lynds. Coming in from the cool, darkening night, and after a long day in a conference hotel, the space was overwhelmingly warm and welcoming. Full of mismatched rocking chairs, it smelled like books. In the basement meeting room there was wine and cake and aluminum trays of delicious local food, and in the middle of the room, on folding chairs, there were the Lynds. With my little plate of food, I pulled up a chair to the edge of the circle of people gathered around them. Then I scooted in a little closer. Soon, I was sitting next to Staughton. I asked my question again, the real question this time: "How did you sustain yourselves for so long, doing this work?" I was surprised when he started answering by telling me about their early married years, how they had put the movement first, then their kids, then each other, and realized painfully that that was not going to work. They had to do the opposite. It was an answer I could relate to. But if the movement comes last, how did they make space for organizing work?
The room was full of chatter, and I had to lean in and tune everything else out to hear his response. When I tuned back in to the room, I noticed Sarah on the other side of the pair, talking to Alice. As I caught the end of the conversation, Alice was saying how Staughton was like a fire house dog – always ready to jump onto the truck as it raced off to an emergency. The other half of the answer! They loved this work. Doing it together was part of their marriage. Even as they approached ninety years old, it nourished them. We all saw it.
We stayed late at the Freedom Library. The Lynds answered our questions with energy and focus, and they also really wanted to know about us: what were we struggling with? What were we working on? They sang songs they learned in Nicaragua for us, and we held hands and sang together before finally saying good night. It is rare to encounter people with so much experience who remain so eager to learn. It was a gift to get to learn from these oral history ancestors.
Over a month later, I still feel energized by this encounter with Alice and Staughton Lynd. This moment happened offsite, at the periphery of the conference, but it started right in the center, in a huge plenary room where many, many people gathered to learn from the Lynds. And this is one of the things I learned at OHA 2017: oral history work that directly aims to contribute to the struggle for social justice, the kind of work that Groundswell members do, is no longer peripheral to the conversations happening in the Oral History Association. The conversations we are having about social justice work, in Groundswell and in the OHA, are not just about some marginal practice of "applied oral history," they constitute interventions into the most important theoretical conversations in the field: about equality, accompaniment, power, audience, authority, truth, and how to make oral history practice sustaining, rather than depleting.
Amy Starecheski is a cultural anthropologist and oral historian whose research focuses on the use of oral history in social movements and the politics of urban property. She is the Co-Director of the Oral History MA Program at Columbia University. She consults and lectures widely on oral history education and methods, and is co-author of the "Telling Lives Oral History Curriculum Guide." Her book, Ours to Lose: When Squatters Became Homeowners in New York City, was published in 2016 by the University of Chicago Press.